2019 | 2018 | 2017 | 2016 | 2015 | 2014 | 2013 | 2012 | 2011 |
Preview of Datavideo Brand New Products on the IBC 2018 at Amsterdam RAI
Datavideo introduces a series of new products on the upcoming IBC show in the Amsterdam RAI in The Netherlands. These novelties contain a brand new camera, multiple mobile video studios and a new flagship 1080P switcher.
NH-100 Nighthawk
Datavideo NH-100 Nighthawk camera is a brand new 1080P with real-time HDR support. This large-scale sensor has a high dynamic range and is capable of tackling sudden light changes in a maximum resolution of 1920x1080 at a frame rate of 60 fps. This camera contains a double 3G-SDI output and an extra HDMI output for viewfinder monitors such as TLM-700K.
Camera Head and Control Panel
We're finally able to say that we can present you the RMC-300, a controller that uses DVIP over a regular TCP/IP network. This means you can wire up and assign up to 24 cameras in your network to the RMC-300. Not only our pan/tilt cameras can be controlled by this controller, also our brand new remote head, PTR-10. This remote head is capable of carrying a camera up to 3KG, thus it is no problem for PTR-10 to support block cameras and the Nighthawk. With passthrough for pretty much all signals and protocols, this unit will be a bliss to use in your setup.
New Flagship Switcher
Datavideo proudly presents the latest switcher SE-3200 on the IBC 2018. SE-3200 opens a new era for video switchers. The device has 12 inputs divided over 8x 3G-SDI and 4x HDMI. As to the outputs, there are 9x freely assignable outputs. By using a FlexSource this unit is practically a 1,5ME switcher. The SE-3200 excels in DVE effects with animated stinger transitions and highly customizable image compositing with up to 8 PIPs, chroma keyers and logo inserters. This unit can also be controlled externally by utilizing the DVIP protocol. Datavideo switchers are known for easy to use. The intuitive and full-size keyboard is equipped with multi-coloured buttons and a professional T-Bar.
Mobile Video Studios
Datavideo introduces no less than three new mobile video studios! HS-1300 is a well-known six channel mobile video studio. We've updated this unit with a streaming encoder and onboard SD card recorder to make it a full turn-key solution. HS-3200 is the mobile version of our latest flagship switcher. HS-3200 excels in DVE effects with animated stinger transitions and highly customizable image compositing with up to 8 PIPs, chroma keyers and logo inserters. The HS-3200 also contains a streaming encoder and a built-in SD card recorder.
Regarding HDBaseT, HS-1500T contains 3 HDBaseT inputs and an extra HDMI input for a live cam or titles. HS-1600T is the updated product which contains the same streaming encoder and SD card recorder as we have mentioned above. With HS-1600T, you now have a single workstation to control cameras, switching and broadcasting.

New PTZ Camera
PTZ-140T is a brand new HDBaseT camera which is perfect with HS-1600T. This small footprint camera houses a 20x optical zoom lens and a built-in encoder to stream directly to the web. The HDBaseT output ensures that you can connect this camera using a single wire which transports power, camera signal, control data and tally. With a seriously competitive price of $1500, this will be a revolutionary camera!
New SSD Recorders
Datavideo introduces two new SSD ProRes recorders. HDR-80 and HDR-90 are similar apart from their form factor. HDR-80 is a desktop model and HDR-90 is a rack-mounted version. Both units record safely on two SSD drives. HDR-80 features a crisp LCD screen on the front which houses all VTR transport controls which folds down to expose the SSD drives. The recorder records in various ProRes 422 profiles to control bandwidth.
New Intercom
ITC-300 intercom is a brand new intercom that might look familiar to the well-known Datavideo fans. However, the internals is completely upgraded and house an eight channel IP intercom. With completely renewed belt packs and cable lengths up to 100 meters, this intercom is perfect for any Datavideo setup.
We are looking forward to seeing you on the IBC 2018 in Amsterdam!
IBC 2018 at Amsterdam RAI
Exhibition Date:14th-18th September
Location:RAI Amsterdam
Booth:Hall 7, Booth A21
RackBuilder-App
Design, develop and configure
the perfect solution for your needs.
Download the
Datavideo AV Solutions Guide
---
Download the
Product Specifications 2018/2019
---
Download the
Product Guide 2018/2019
---
Download the
Virtual Studio Solutions
brochure.
Latest Movie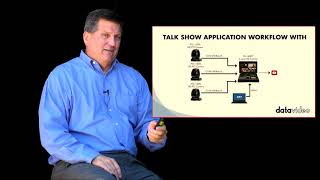 All Videos