2019 | 2018 | 2017 | 2016 | 2015 | 2014 | 2013 | 2012 | 2011 |
NAB Show 2017 Exhibition Preview
In April 2017, Datavideo will attend 2017 NAB Show to announce new product lines for total system solutions in different applications with sophisticated product design and affordable practical functions.
In Digital Video Switcher and Mobile Video Studio, Datavideo will exhibit the flagship SE-2850
HD/SD 12-Channel Digital Video Switcher and
HS-2850
HD/SD 12-Channel Portable Video Studio
with new features of integrated CG and 1920x1080P input signal compatible that make it the perfect solution for large EFP activities.
The HS-1500T
HD/SD 4-Channel HDBaseT Portable Video Studio
is the worldwide first portable video studio with the HDBaseT technology. The HDBaseT technology integrates HD video, control signal and power supply together for ultra-long distance transmission with one internet cable only. Combine the HS-1500T with Datavideo HDBaseT camera for brand new user experience in remote video recording/control.
Moreover, the SE-500HD
HD/SD 4-Channel Digital Video Switcher
is a powerful solution that brings up to 4-channel 1080P60 video signal switching, mixer and fancy effects within small and compact form factor. Its convenience and high C/P value make the SE-500HD the best and professional solution for self-media or new media user.
In Virtual Studio System, the TVS-2000A is the worldwide first 3D Tracking Virtual Studio System that uses PTZ camera as the tracking lens. Combine the TVS-2000A with Datavideo PTC series PTZ camera bringing schools, local TV stations and personal studios the real 3D virtual studio system.
For PTC PTZ camera and HDBaseT camera series, the PTC-200T 4K HDBaseT PTZ Camera allows long distance UHD video transmission up to 3840x2160 resolution.
Moreover, the BC-80/200 HD/4K block cameras are HD video camera solutions with sturdy metal case and Tally light for video recording in limited space.
Web streaming is the mainstream media nowadays, Datavideo DVS-200 is a revolutionary streaming (A/V streaming) platform that allows users' real-time video encoding, decoding, recording and then transferring to different devices. Moreover, the NVD-30/35 IP Video Decoder allows users to decode streaming media and then output to the external TV or display devices.
The VP-840 4K HDMI Distribution Amplifier 1x4 duplicates four HDMI signal sources to the monitor synchronously which provides users stable signal distribution and transferring.
The DAC-45 4K UP Down Cross Converter converts multiple formats videos into higher or lower resolution which is the best solution for conference recording.
At the NAB Show from April 24th to 27th, Datavideo welcome friends from different industries to the Las Vegas Convention Center (booth SL8416) to experience industry pulse and new inspiration.
RackBuilder-App
Design, develop and configure
the perfect solution for your needs.
Download the
Datavideo AV Solutions Guide
---
Download the
Product Specifications 2018/2019
---
Download the
Product Guide 2018/2019
---
Download the
Virtual Studio Solutions
brochure.
Latest Movie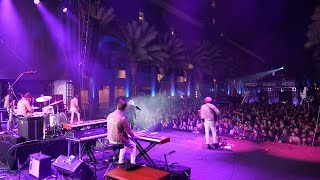 All Videos