2019 | 2018 | 2017 | 2016 | 2015 | 2014 | 2013 | 2012 | 2011 |
NAB 2018 has ended, what a thrill!
Nighthawk
The big star of the show was our latest camera: the Datavideo NH-100 Nighthawk. With an incredible performance in low light situations and 12 bit processing this unit will be your favorite camera in any situation where you can't dictate light. Stage events, theaters, nightclubs, night shoots outside, concerts, basically everywhere you don't have direct control over the light.
When not working on a live stage, the 12 bit processing ensures you that all the data has been captured that you need in your post processing workflow. NH-100 features 2x 3G-SDI output and 1x HDMI output. This means that you can connect all your monitors, recorders and analyzing peripherals at once and still have spare outputs for ultimate flexibility. Full size XLR inputs give you the freedom of choosing your own audio setup, while the all-around mounting holes gives you enough space to mount a rig of your choice. NH-100 is the only camera in its class that also features a built in tally light to provide valuable feedback to the talent in front of it. With an MFT mount the Nighthawk is suited for all MFT lenses, from the smallest prime to the largest telezoom.
SE-3200, 12 input 1080p switcher
SE-3200 is the latest switcher in our long line of ultra-reliable and user friendly video switchers. SE-3200 features auto-sensing, mixed HD inputs that go up to 1080p60. With 4 upstream keyers you can create 4 PiP's and mix these individually as well. SE-3200 also features stinger transitions, multiple chromakeyers and professional features as gunlock input/loop through. SE-3200 can function as a simple virtual studio system with the use of the built in background generator (still images) with 50 sets already built in.
SE-3200 is built as a 2RU main unit with a full size control panel.
NVS-40 quad encoder
The other hot new product we're debuting at NAB 2018 is the NVS-40 Four-Channel Streaming Encoder. This is a special product that will allow video producers to take 4 video inputs and manipulate them in a few VERY interesting ways.
The NVS-40 can take 4 video inputs and stream them to 4 individual RTMP destinations. So for example, a producer could take 4 video inputs and stream them to 4 separate YouTube channels or Facebook pages or even custom websites.
The NVS-40 can also take those 4 same video inputs and allow the operator to choose which one to route to a single RTMP destination. This makes the NVS-40 function very similarly to a video switcher. Not only that, but it can show all 4 inputs simultaneously on a quad-split, 2 on a 50/50 split, or even 2 as a main PGM + Picture-in-Picture.
The NVS-40 can also simply take the 4 video inputs and record 4 individual files onto a removable hard drive, which can then be plugged into a computer for file transfer.
RackBuilder-App
Design, develop and configure
the perfect solution for your needs.
Download the
Datavideo AV Solutions Guide
---
Download the
Product Specifications 2018/2019
---
Download the
Product Guide 2018/2019
---
Download the
Virtual Studio Solutions
brochure.
Latest Movie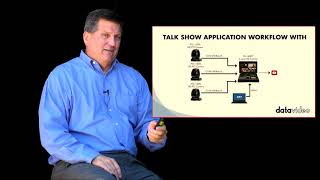 All Videos