2019 | 2018 | 2017 | 2016 | 2015 | 2014 | 2013 | 2012 | 2011 |
Introducing New Features for Datavideo's Award-winning KMU-100 4K Multicamera Processor and RMC-185 Controller
In 2016, Datavideo announced the KMU-100 4K Multicamera Processor, an innovative and outstanding product, which has won many prestigious awards since it was launched. The KMU-100 delivers multiple virtual shots in full HD (up to 1080p) with minimal installation cost and simple operation. Using the RMC-185 controller, you can easily select a particular subject on the 4K signal.
Datavideo views continuously innovation as our mission. We keep on looking for the solutions to simplify workflow for our customers. Built upon the KMU-100 infrastructure, the upgraded version of the KMU-100 provides our users with a simple video switching feature. Without having to purchase replacements, you can easily upgrade your KMU-100 multimedia processor and RMC-185 controller to the PLUS version by installing the latest firmware. With the KMU-100 multi-camera shooting and video switching effects, field production no longer requires complicated system setup and additional switchers. All you need is one or two 4K cameras, KMU-100 and RMC-185+.
After upgrading KMU-100 and RMC-185 using the latest firmware from our official website (KMU-100: Switching Mode V.14745 / RMC-185: Switcher Mode V1.012), the RMC-185 PLUS version will be able to provide the user with new camera control and video switching features. In the Switcher Mode, you will be able to view two 4K video channels at the same time on the Multiview monitor as well as other cropped 4K video images in smaller windows. Alternatively, you can choose to view PVW and PGM outputs for easier video switching during field production. The KMU-100 generates broadcast quality visual effects. Ultimately, the combined setup of KMU-100 and RMC-185+ not only simplifies the workflow, the number of staff members required at the field production site is also been substantially decreased as directing and camera shooting can now be a one-person job. The KMU-100 and RMC-185+ will successfully satisfy the production requirements of small to mid-sized events for courtrooms, church, musical concerts and more.
(Please go to Downloads to access KMU-100 V14745 and RMC-185 V1.012 Switcher Mode update)
RackBuilder-App
Design, develop and configure
the perfect solution for your needs.
Download the
Datavideo AV Solutions Guide
---
Download the
Product Specifications 2018/2019
---
Download the
Product Guide 2018/2019
---
Download the
Virtual Studio Solutions
brochure.
Latest Movie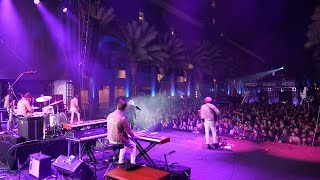 All Videos