2019 | 2018 | 2017 | 2016 | 2015 | 2014 | 2013 | 2012 | 2011 |
ISE 2018 Exhibition Preview
2018/2/6-2/9, Datavideo presents their latest inventions for producing broadcast quality video on the upcoming ISE show in the Amsterdam RAI.
Datavideo is a worldwide company originating in Taiwan that develops solutions for video production and distribution with ease of installation and use in mind. With this values in mind producing and distributing broadcast quality video becomes available for the large audience.
Single cable solutions
Datavideo presents a complete solution which consists of cameras, a switcher, recorder and streaming encoder. The HS-1600T is a compact mobile studio that folds into a small suitcase. By using HDBaseT connectivity it's very easy to set up and install this system. HDBaseT combines all camera signals, control data and power in just a single network cable! By using this technology it's very easy to set up the system and transform any room into a studio. This set is expandable up to three cameras and an extra HDMI source like a laptop. With easy camera controls integrated in the switcher surface and a streaming encoder that ensures you to be live on Youtube or Facebook within seconds. Use an SD card to record your production directly from the switcher.
Streaming solutions
Datavideo develops a wide range of streaming hardware and software solutions. These solutions vary from H.264 encoders to send a video stream directly to a video platform like Facebook or Youtube. An encoder like this works from point A to point B. It gets more interesting when combining this encoder with the DVS-200 software. By using this software, which is installed on a server, you can send the stream from point A to numerous end points, whether that is a platform like Youtube or a hardware decoder on a TV set. By using this software the end user can create his own IPTV network, or distribute the stream throughout an office building. Our NVD-30 hardware decoders are also able to directly decode clips from Youtube for instance, enabling users to use the clips into their production set.
Mobile production sets
For corporations and businesses that "want to do something with video", Datavideo has multiple solutions and options. One of those is a mobile production studio that is available in different configurations. The HS-1300 is the current entry level model with built in streaming and recording. This unit is a six channel production mixer with built in monitor, streaming and recording capabilities and a nice look. With a set like this you can transform any room into a production environment. They weigh 6 to 9 kilos depending on the configuration so they are perfectly suited to work on location or when a room is not a permanent studio. Also ideal for conferences, meetings and panel discussions. The HS-1600T mentioned earlier is also perfect for these events.
Flexible rackmounted switcher
Datavideo is proud to introduce the latest easy to use 4 input switcher, SE-500MU. This switcher features 4 HDMI inputs with embedded audio, RCA audio inputs and wireless tablet controls. SE-500MU has smart scaling capabilities and features intuitive controls. This switcher is perfect for lecture capturing and small scale live events.
(SE-500MU HD 4-Channel video switcher)
iPad control
Datavideo has a very flexible switcher in their line-up. The SE-1200MU is a six channel mixer with built-in chromakeyers. This switcher is controllable with the optional RMC-260 control surface, but now it's also controllable by a very easy to use iPad app. The RCS-1000 software combines the control of the SE-1200MU, up to eight pan/tilt/zoom cameras (PTC-150) and the HDR-70 harddisk recorder. These units combine into a perfect solution for lecture capturing and other events where the production equipment must be controlled simple and intuitive from an easy to understand GUI. RCS-1000 is a free download on the Apple and Android app/play store.
Webinar Presentation Kit
Datavideo presents a webinar presentation kit which is very useful for producers who want to present a presentation or education without personnel. The MGB-5 is an all in one unit that consists of a chromakeyer, streaming encoder, audio delay and video recorder. With the use of a special teleprompter the presenter can see himself as a reference. The green backdrop can be replaced with a presentation, a video or for instance a website. This solution is perfect for recording and live streaming presentations.
(MGB-5 Webinar Presentation System)
TVS-1200A
The acclaimed Datavideo virtual studio range is perfect for corporations that want to present their annual figures, news or other novelties. TVS-1200A is easy to use, easy to set up and with the built in background editor it's very easy to create your own business' backdrop. TVS-1200A contains a recorder, audio mixer, streaming encoder and a chromakeyer with easy to use wizard mode for the inexperienced users.
Welcome to visit Datavideo at ISE!
〉〉Date: 6th-9th February 2018
〉〉Location: Amsterdam RAI, The Netherlands
〉〉Booth:7-C193
RackBuilder-App
Design, develop and configure
the perfect solution for your needs.
Download the
Datavideo AV Solutions Guide
---
Download the
Product Specifications 2018/2019
---
Download the
Product Guide 2018/2019
---
Download the
Virtual Studio Solutions
brochure.
Latest Movie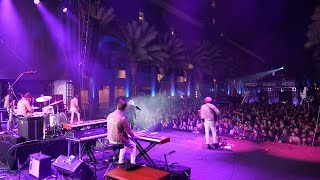 All Videos