2019 | 2018 | 2017 | 2016 | 2015 | 2014 | 2013 | 2012 | 2011 |
FightMedia Hungary uses Datavideo equipment
FightMedia Hungary, covering MMA and Kickboxing matches in and around Hungary is using an impressive Datavideo setup. This setup is based around the acclaimed HS-2800 mobile studio. This HS-2800 is expanded to 12 channels using the optional 4 input expansion card. Next to the HS-2800, they use the ITC-100 for expanding communication to all camera people. The AD-100 is used for audio delay, DVK-300HD is used for chromakeying titles and animations. The broadcast is being encoded to the internet using the NVS-20, and recorded on a HDR-70 HDD recorder. Below is a full list of equipment used.
HS-2800 with expansion to 12 channels
ITC-100 tally/talkback
AD-100 audio delay
NVS-20 streaming encoder
DVK-300HD chromakey
HDR-70 HDD recorder
DAC-70 Up/Down/Cross converter
RackBuilder-App
Design, develop and configure
the perfect solution for your needs.
Download the
Datavideo AV Solutions Guide
---
Download the
Product Specifications 2018/2019
---
Download the
Product Guide 2018/2019
---
Download the
Virtual Studio Solutions
brochure.
Latest Movie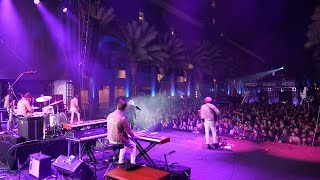 All Videos