2019 | 2018 | 2017 | 2016 | 2015 | 2014 | 2013 | 2012 | 2011 |
Datavideo mobile switcher and remote controlled HDBaseT cameras used in water polo venue
The acclaimed mobile switcher range from Taiwan based hardware vendor Datavideo has proven over the years to be the most flexible range of production switchers around. With a clear user layout and numerous variations the mobile studio range suits any type of production needs. One of the latest installments was done by the company Studiotech Hungary in the swimming pool of Kaposvári Vizipóló Klub.
Studiotech Hungary's Head of System Engineering, Máté Kovács used the Datavideo HS-1500T in this installation. This mobile switcher uses three HDBaseT inputs so the 1080p signal, camera power and control data are all sent through a single Ethernet wire. The cameras used are Datavideo PTC-150T, a full HD pan/tilt/zoom camera with HDBaseT interface built in. This fast and precise PTZ camera uses a 30x optical zoom lens for clear images and stunning close ups.
Both cameras are built in waterproof housings that are engineered in house and took a month to fabricate. One of the main challenges for this project was finding the right cable to use with the system, and the waterproof connections to the camera. HDBaseT ensures you of cable runs up to 70 meters, so Studiotech provided two cable drums for easy cable storage.
Kaposvári Vizipóló Klub is using this solution for recording and showing the underwater part of their match. A Datavideo HDR-1 is used for easy and reliable USB recording. This small recorder captures the signal in 1080p and compresses in h.264 up to 20 megabits. The club is also using a large LCD wall for viewing purposes and to make sure that the output signal of the HS-1500T is compatible a DAC-70 converter is used. The DAC-70 is an ultra-versatile up/down/cross converter that converts SDI into HDMI and vice versa, but also converts VGA and embeds audio onto the output signal.
This HDBaseT total solution is undoubtedly an excellent choice for water applications, Datavideo also announced that HS-1500T HD/SD 4-Channel HDBaseT Portable Video Studio is now shipping worldwide.
RackBuilder-App
Design, develop and configure
the perfect solution for your needs.
Download the
Datavideo AV Solutions Guide
---
Download the
Product Specifications 2018/2019
---
Download the
Product Guide 2018/2019
---
Download the
Virtual Studio Solutions
brochure.
Latest Movie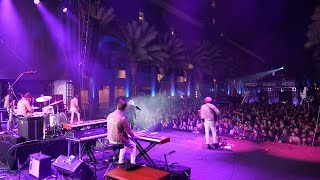 All Videos