2019 | 2018 | 2017 | 2016 | 2015 | 2014 | 2013 | 2012 | 2011 |
Datavideo announces new versatile PTC-200 4K pan-tilt-zoom camera
Broadcast and AV production nowadays relies heavily on pan/tilt cameras. These cameras deliver stunning image quality, solid operation and they need less personnel to operate. Datavideo caters a wide range of pan/tilt cameras. The PTC-200 is the latest model featuring a 4K sensor.
Datavideo has developed the PTC-200 4K PTZ Camera as a solid 4K camera. The PTC-200 features an industry standard HDMI 2.0 output, SONY VISCA and self-developed DVIP control protocols. The camera is available in white and black to match the locations atmosphere.
The camera captures 4K video at 3840 x 2160 resolution and features wide dynamic range with backlight compensation. The camera features a motorized 12x optical zoom capability and its image mirror and image rotation functions allow you to mount in on a wall or ceiling.
"Pan and tilt cameras are the future in smaller and larger productions" says Johan Lieffers, General Manager at Datavideo Technologies Europe BV. "When cutting cost in personnel, pan/tilt cameras are the way to go. They deliver precision and stunning image quality at an optimal price point."
All cameras are demonstrated on the Datavideo IBC booth, 7.D39.
►Click to learn more about PTC-200 4K PTZ Camera◄
RackBuilder-App
Design, develop and configure
the perfect solution for your needs.
Download the
Datavideo AV Solutions Guide
---
Download the
Product Specifications 2018/2019
---
Download the
Product Guide 2018/2019
---
Download the
Virtual Studio Solutions
brochure.
Latest Movie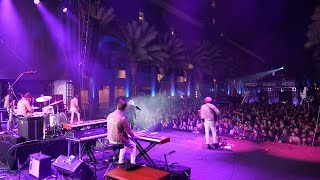 All Videos