2019 | 2018 | 2017 | 2016 | 2015 | 2014 | 2013 | 2012 | 2011 |
Datavideo TLM-700K 4K LCD Monitor is Now Available Worldwide
TLM-700K is a 7 inch LCD monitor with 4K video input. The 1920x1080 Full HD LCD panel supports point-to-point full screen viewing for DSLR use. This crisp and clear monitor supports various professional features such as aspect marker, check field, peaking, false colour and exposure. These functions meet all the needs of professional videographers.
This viewfinder monitor supports 4K HDMI input and loop through, with headphone interface to monitor the embedded audio. This makes this monitor suited for high-end camera use without breaking the bank.
What makes the TLM-700K unique is that Datavideo managed to keep the weight and size down. This results in a compact monitor that weighs only 400 grams. Due to its low weight, it is suitable to sit on top of your camera. It can be mounted on various types of cameras or camcorders by the VESA mount, hot shoe and also mounts to camera tripod arms.
TLM-700K is typically used with a battery on the back. The monitor has support for Sony F970 type batteries. A DC power supply is also packed when used in a studio setup.
Datavideo TLM-700K 4K LCD Monitor is now available worldwide. For more information on the TLM-700K or where to buy Datavideo products, please visit our website on www.datavideo.com
RackBuilder-App
Design, develop and configure
the perfect solution for your needs.
Download the
Datavideo AV Solutions Guide
---
Download the
Product Specifications 2018/2019
---
Download the
Product Guide 2018/2019
---
Download the
Virtual Studio Solutions
brochure.
Latest Movie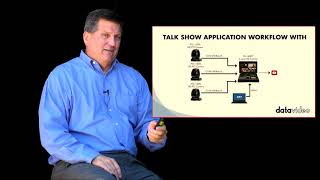 All Videos