2019 | 2018 | 2017 | 2016 | 2015 | 2014 | 2013 | 2012 | 2011 |
Datavideo RMC-300C Multi-Camera IP Controller Make Your Multi-Camera Control Much Easier
Over the past 10 years, Datavideo RMC-180 has been one of the best-selling Datavideo products. RMC-180 adopts serial port transmission which is able to connect 4 cameras. The durable RMC-180 has always been an ideal choice for broadcast and AV markets. However, the transmission technology has evolved with the times. The Ethernet transmission opens a new page to the transmission technology.
Datavideo RMC-300C is a multi-functional Multi-camera IP Controller. Thanks to the Ethernet transmission, RMC-300C can work together with an iOS or Android tablet to control up to 24 Datavideo cameras in the same domain. Furthermore, the RMC-300C provides users with several advantages such as affordable and easy cabling, an intuitive controller by pushing the hardware keys and a friendly user interface for the iOS/Android-based remote control system app.
Remote Control via Ethernet
The Datavideo RMC-300C Multi-camera IP Controller is a breakthrough product that evolves from serial transmission to Ethernet transmission control. RMC-300 is compatible with Datavideo's PTC-140 / PTC-150/PTC-150T/PTC-200/PTC-200T and BC-50 / BC-80/BC-200/BC- 200T cameras. The Ethernet transmission enables RMC-300C to work in environments that use much more cameras as opposed to the limited RMC-180.
Controls Up to 24 Cameras
The RMC-300C is mainly controlled by software. The iOS/Android app on the tablet assign the keyboard function of the RMC-300C. Users can select the cameras that are connected to the router.
Supports up to 14 Presets
Unlike those low-cost PTZ cameras only allow storing pan/ tilt/ zoom presets, Datavideo's PTZ cameras can do more than that. Each Datavideo PTZ camera not only stores the pan/ tilt/ zoom preset positions but also the optical parameter settings such as white balance, frame rate and iris. Such a high standard makes Datavideo's cameras can fulfil the requirements of the broadcast market.
Friendly APP Interface Compatible with iOS/Android
The RMC-300C has to work with a tablet. Datavideo provides apps both for iOS and Android users. The download points of the apps are easy to access, a user may scan the RMC-300C QR Code with a tablet either download the apps from the of Datavideo's website. The interface of app is friendly to the users and all the parameters settings are available.
USB Port for Firmware Upgrade and Tablet Charging
RMC-300 equips with the USB ports for firmware upgrade and tablet charging. The USB ports are on the rear panel of RMC-300C.
RackBuilder-App
Design, develop and configure
the perfect solution for your needs.
Download the
Datavideo AV Solutions Guide
---
Download the
Product Specifications 2018/2019
---
Download the
Product Guide 2018/2019
---
Download the
Virtual Studio Solutions
brochure.
Latest Movie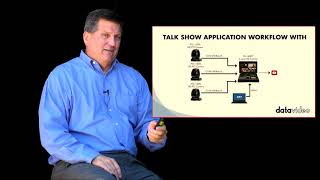 All Videos