2019 | 2018 | 2017 | 2016 | 2015 | 2014 | 2013 | 2012 | 2011 |
Datavideo Latin Training Recap
In the last week of November, Datavideo hosted the annual training for Latin American resellers. The training took place at the Datavideo USA headquarters in Whittier, CA. Datavideo presented all the new products that will be arriving in 2018 and trained visitors on how to sell and better use existing products.
"I am really proud of what we have been able to achieve in Latin America so far, and I know that things will only improve, I cannot wait to see what happens in 2018," says Craig Moffat, Managing Director of Datavideo USA.
Some highlights of the event included:
Merlin Distributor (Brazil) won the best distributor of the year award.
Megaservice ASDA S.R.L. (Argentina) was awarded as the ambassador of the Datavideo in LATAM due to their excellent talent in representing the brand in tradeshows.
Broadmedia (Brazil) won the best reseller in Brazil, and TV Group (Argentina) won the best reseller in Argentina for the year 2017.
Ricardo Santos' new position was also made official. Up until September, he was the Regional Sales Manager for the Brazilian and Argentine market. Because of an increase in Brazil and Argentina, Ricardo Santos will now be responsible for all the territories in Latin America in his new position as Sales Manager of LATAM.
"Datavideo offers complete workflows that can be adapted to many applications in Latin America, so I believe in the success of Datavideo in 2018," says Ricardo Santos.
Another highlight of the event was the promotion of Merlin Distributor to Principal Distributor for Datavideo in Latin America. These changes will take place starting January 1, 2018 and should make the delivery of products throughout Latin America much easier. Nothing will change with the existing Latin resellers. This will simply give them quicker access to products and allow them to save on shipping costs. The partnership between Datavideo and Merlin is expected to be a great success.
RackBuilder-App
Design, develop and configure
the perfect solution for your needs.
Download the
Datavideo AV Solutions Guide
---
Download the
Product Specifications 2018/2019
---
Download the
Product Guide 2018/2019
---
Download the
Virtual Studio Solutions
brochure.
Latest Movie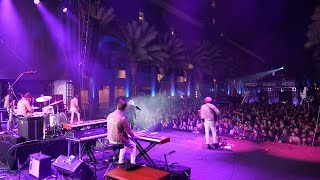 All Videos