2019 | 2018 | 2017 | 2016 | 2015 | 2014 | 2013 | 2012 | 2011 |
Datavideo Announces a 12-Input All-In-One Hand Carried Production Studio with Built-in Streaming and Recording
Datavideo announces the HS-3200, 1080p all-in-one hand carried production studio with built-in streaming encoder and recorder. The HS-3200 has a 12-channel video switcher, 17.3" LCD monitor for multi-view, H.264 streaming encoder, and recorder; which are all built inside the Datavideo's iconic suitcase style chassis. You no longer need to connect multiple products in your workflow for switching, monitoring, streaming, and recording.
The HS-3200 has 8 HD-SDI and 4 HDMI inputs with dual Chromakey, dual DSK, Flex source, and stinger transitions for a professional switching experience. The Flex source feature allows the HS-3200 to have up to 8 PIP windows at once, making it ideal for multi-camera productions such as Esports, live concert events, and many more. Simply connect the HS-3200 to a network and begin streaming your program to your preferred CDN. In addition, you can record to an SD card by just pressing one button.
Why lug around multiple pieces of equipment for your productions when you can have an all in one product like the HS-3200? Switch, monitor, stream, and record simultaneously with the HS-3200.
"My favorite feature of the HS-3200 is the convenience of having an SD card slot on the front panel of the control surface as well as a button for streaming and a button for recording," says Craig Moffat, Managing Director of Datavideo. "It truly is a complete live video portable solution for switching, recording, streaming and keying all in an enclosure the size of a briefcase."
The lightweight all-in-one portable design of the HS-3200 makes it ideal for various applications such as Esports, live concert events, seminars, sporting events, and houses of worship. If the portability isn't what you need, there is a standalone switcher version, SE-3200.
RackBuilder-App
Design, develop and configure
the perfect solution for your needs.
Download the
Datavideo AV Solutions Guide
---
Download the
Product Specifications 2018/2019
---
Download the
Product Guide 2018/2019
---
Download the
Virtual Studio Solutions
brochure.
Latest Movie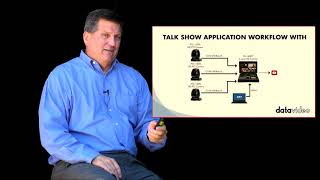 All Videos