2019 | 2018 | 2017 | 2016 | 2015 | 2014 | 2013 | 2012 | 2011 |
Church Production Magazine picks SE-700 as one of the top 5 products of NAB 2015
US magazine Church Production have named their top 5 new products at NAB. The Datavideo SE-700 is on the list, being praised for being user friendly and affordable:
"While Datavideo debuted a number of intriguing products at NAB 2015, their new SE-700 switcher was especially remarkable. The company calls it, 'the most affordable four-input HD video switcher on the market.' While that's impossible to verify, at less than $1,800 retail there is no doubt the new SE-700 offers a fantastic array of options for small- and medium-sized churches (or even secondary rooms – chapels, youth rooms etc – in larger churches). Features include: dual chromakey, lumakey, downstream keying, PIP (picture-in-picture), clip storage, and a control panel. It includes two HD-SDI and two HDMI inputs and two HD-SDI and one HDMI output, plus two balanced XLR audio outputs."
They also comment:
"What struck us at the Datavideo booth was the level of organization and focus on specific markets. Larger than we remember from years past, the Datavideo booth was laid out in long counter-height tables with products designed for specific applications, including: education, sports, government and, of course, worship. This type of display was refreshing, especially for the first time NAB attendee who could easily get lost in the miles of tech on display at the show."
Click image to see movie
RackBuilder-App
Design, develop and configure
the perfect solution for your needs.
Download the
Datavideo AV Solutions Guide
---
Download the
Product Specifications 2018/2019
---
Download the
Product Guide 2018/2019
---
Download the
Virtual Studio Solutions
brochure.
Latest Movie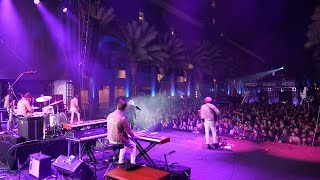 All Videos