2019 | 2018 | 2017 | 2016 | 2015 | 2014 | 2013 | 2012 | 2011 |
Broadcasters thirsty for Datavideo
Studiotech Hungary's Datavideo Demo Day gave delegates from Hungarian broadcasting companies the opportunity to experience Datavideo products and solutions.
Géza Billédi, sales representative from Studiotech stated:
"We've held two presentations during the day and given and all the attendees hands-on time with the products. Attendees were really enthusiastic about Datavideo."
Included in the demo was a hands-on experience with the HS-2800 mobile studio solution and the DVK-300HD chroma key. A Panasonic camera mounted on a jib was controlled by the Datavideo MCU-100 multi-camera control unit. Recording was done with a HDR-60 hard disk recorder, and the HDR-70 rack mounted version.
Users get familiar with the Datavideo equipment. Equipment up front: HS-2000L mobile studio and TLM-170H 17" HD SDI monitor.
Géza Billédi explores the Datavideo product range.
RackBuilder-App
Design, develop and configure
the perfect solution for your needs.
Download the
Datavideo AV Solutions Guide
---
Download the
Product Specifications 2018/2019
---
Download the
Product Guide 2018/2019
---
Download the
Virtual Studio Solutions
brochure.
Latest Movie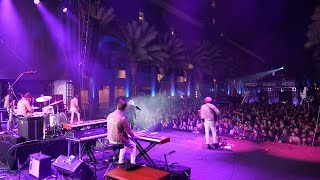 All Videos